| | |
| --- | --- |
| | Prospector's Search Tree |
The Search Tree lets you save your searches and customize the layout of your search results.
There can be up to three levels in the Search Tree:
A Search lets you save a search on eBay. You can choose from Item, Seller, Bidder, Category, and Captured searches.
You can use Groups to combine the results of multiple searches and have the results sorted and presented together.
Place Searches and Groups on Pages. The order in which you lay them out will be how Prospector will show you the results.
Pages are tabbed for easy navigation between pages.
Here's an example using searches for CDs and DVDs:
When the searches in the page are replayed, you can see how Prospector lays out the results to match the search tree: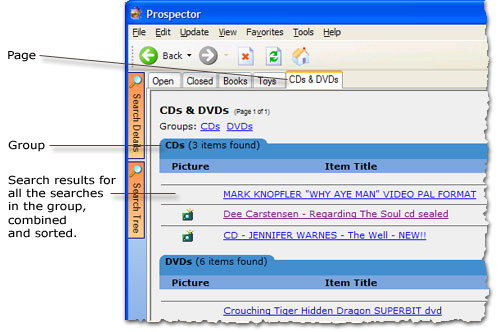 Once your searches are saved in the Search Tree, you can update them at any time to see the latest results with a single click.
The Search Tree is powerful and adaptable. It gives you:
Search saving for ease of repeatability - one click is all it takes.
The convenience of organization - it lets you see related items presented together.
Filtering of duplicate results if multiple search queries should overlap.
The freedom to be creative.
Breadth, depth, and consistency of search coverage, every time.
Here are some examples:

You can group a set of alternatives and remove the group when done.


You can create shopping lists and remove the individual searches as you obtain the items.

You can monitor a market, or group variants of your searches for prospecting. Low probability but highly valuable searches can be saved - finding these items will no longer require extraordinary perseverance and patience.

The Search Tree gives you control and saves you time. It's easy to use, yet versatile. Power shoppers and seasoned prospectors who demand the best will not be disappointed!




Download the FREE Prospector Lite, or order a Prospector upgrade today!